When grass racing makes its debut in 2022 at Hippodrome Aqueduct on April 7, provided Mother Nature cooperates, it will draw rapturous applause from New York fans eager to once again see lush green fields and competitive racing with big fields and great betting opportunities.
For the most part, that applause should go to the dedicated track maintenance team working for the New York Racing Association's senior vice president of operations and capital projects, Glen Kozak, who deserves a bow or two for his grueling efforts. in the preparation of Aqueduct's two turf courses for Thursday's races, as well as the April 9 turf starter of the year, the $100,000 Danger's Hour Stakes.
While the field crew at Yankee Stadium is cheered amid the playing of "YMCA" as they gleefully spruce up the infield, for much of the past week Kozak's crew has been working diligently without fanfare or flattery to get the indoor and outdoor fields in the Big A ready at a time when temperatures in the still cool Northeast are hardly conducive to spawning a green turf field.
Fans who attended the races at Aqueduct last weekend got a bird's-eye view of the process allowing roughly two weeks of turf racing to get off to a fast start as a team of workers ages 12-18 began removing the blankets. which covered the mile and 7/8 of a mile in circumference of both turf fields.
In total, a total of approximately 17 miles of polyurethane cover will be removed once the process is repeated on belmont park.
Enroll in bloodhorse Daily
Yes, 17 miles. Just think about it. If each of the strips were laid end to end in one long line, it would stretch from the Aqueduct to the Nassau Veterans Memorial Coliseum in Uniondale.
Beyond that, once a grass blanket is lifted, it takes great care and steady hands so that even when the wind does its best to blow it away, the tarp can be neatly folded into a three-inch-by-two-inch tarp inches, six. square one inch high and stored until December.
Lush green grass is revealed in the process of removing the tarp.
Take all that time, effort and financial cost into consideration and it's a shining sign of the importance and value that NYRA places on turf racing.
"It's a very labor-intensive job with a lot of hands-on work that's a big help to us," Kozak said. "We started doing small portions of the track about 12 years ago and after seeing the results we now cover all four fields at Aqueduct and Belmont. It's a daunting task. Imagine going to work knowing you have six miles of blankets to drop off or pick up. But it helps us compete on grass about two weeks earlier than we would without them and that makes it worth it."
Due to the way the blankets are loosely woven to allow water and air to enter while providing some warmth to keep the grass from dying, the blankets produce a virtually ready-to-use surface when removed.
Last weekend, for example, under the blankets at Aqueduct there was about 5 1/2 inches of healthy, green grass that actually needed some trimming to meet the standard length of 4 1/2 to 5 inches. the grass courts of the NYRA. In contrast, patches of dormant, bare grass across the two fields were about an inch and a half tall and will take a few weeks to reach that length.
"We wouldn't be racing on grass Thursday without the blankets," Kozak said.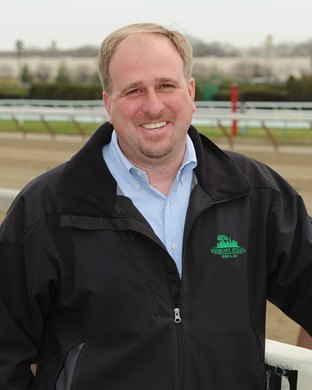 glen kozack
While a forecast of rain this week may delay the actual execution of that first grass-court race, the ability to add grass-court racing to Aqueduct's daily undercards is a welcome addition for SVP of Racing Operations Frank Gabriel.
"We still have to deal with the weather ahead and the April weather and rains, but it's a bonus to have the covers so we can start the grass racing as soon as we can and that's a benefit to the riders, the owners and the betting public," said Gabriel. "Grass racing is a big part of the NYRA program and if we can get an early start, it's a huge advantage for the horses that are stabled with us and those that come here after racing in the south. There's a fantastic job on their part." of the Glen team. That's included, but in the end it's worth it."
To no one's surprise, the launch of turf racing had a profound and immediate impact on the Aqueduct charts. While rain could lead to shifting the races to the main track, Thursday's card includes three grass-court races that drew 34 entrants (8 of them main-track entries only) on a day that saw 72 horses enter. for all eight races.
The following day's card also has three grass-court races with 33 entrants (6 MTO) in an eight-race program with a total of 69 entrants.
The two-pronged process of dropping off and picking up all those blankets begins in December with an even more time-consuming routine than spring.
Although it may appear that the canvases are curved, it is actually the result of the overlapping of straight strips. A variety of sizes are used, each ranging in size from 100 to 300 feet long and 20 to 30 feet wide. They are driven into the ground with grass staples that are six inches long and two inches wide and are fluorescent pink for easy viewing.
"It takes about a week to cover each course in the winter and our ability to work depends on the weather," Kozak said. "We have to finish before the ground freezes so we can put the staples in the ground."
Led by Brian Jabelmann, Jermaine Dyer and Mike Haneman, blanket removal in the spring takes about two days with another two days to fertilize and groom the fields and use magnets to make sure no staple food remains.
"I give the guys a lot of credit for all the painstaking work they do." Kozak said. "People can't appreciate what we're doing until they look at the field and here we are, one of the northernmost tracks and we're on the grass earlier than a lot of other places. Our guys get their satisfaction from that."
Who knows? Perhaps some musical accompaniment could provide even more recognition for a job well done.
"I'll think about it. Maybe we can play 'YMCA' on the sound system when we take off our blankets in Belmont," Kozak said with a laugh.