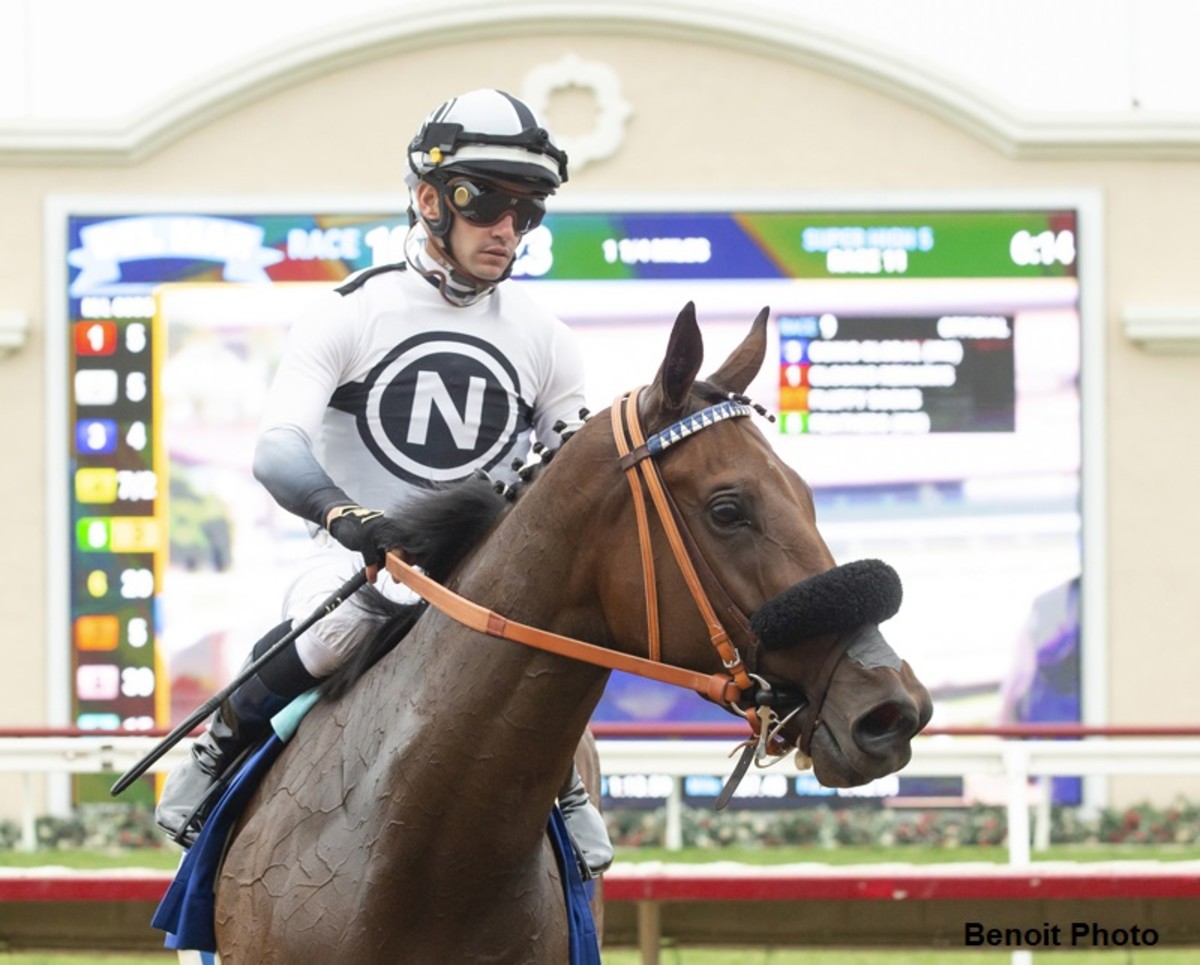 Going Global after his win at Del Mar Oaks
Surprisingly good in her first seven starts last year for Phil D'Amato, Irish-bred Going Global returns to her preferred surface as she leads a group of five older fillies and mares running a mile on turf in Saturday's Grade 2 , $200,000 Royal Heroine Stakes at Santa Anita in Arcadia, California.
Winner of six of her eight US starts, all stakes, dating back to her US debut. 1 Del Mar Oaks over 1 1/8 miles on grass three starts on August 21.
Subsequent winner of the Grade 2 Goldikova Stakes over a mile on grass on Nov. 6, she was a 4-5 favorite in the Grade 1 American Oaks, originally scheduled for grass, but at her first attempt on gravel never threatened while finishing sixth, beaten 15 ¼ body on a fast, wet surface for a mile and a quarter on Dec. 26.
With a constant series of exercises on the Santa Anita indoor training track, which D'Amato runners have used with a high degree of success, Going Global should be extremely difficult at the distance she enjoys.
Owned by CYBT, Michael Dubb, Saul Gevertz and Michael Nentwig, Going Global, who had one win in four Irish starts at age two, has two wins in three attempts at a mile on grass and is 12-7-1 overall. -0 with earnings of $649,292.
Hronis Racing's Park Avenue, who tried artificial turf for the first time and responded with the best run of his career, a score of 2 ¾ lengths in a 1 1/8-mile turf assignment on March 20, cuts a furlong and qualifies as a great opportunity with Juan Hernandez riding backwards.
Trained by John Sadler and with a top 90 Beyer speed figure in hand, Park Avenue, who was a distant second three starts on dirt in the grade 3 La Canada Stakes, is a solid 9-3-3-1 in general. . A Kentucky-bred filly by Quality Road out of the Indian mare Charlie Remarkable, she is seeking her first stakes win with earnings of $199,900.
D'Amato will also be well represented by upstart Excelerina, raised in Ireland. Winless in three starts in Ireland, he is coming off a pair of strong wins on the 1 1/8 mile course, most recently a first condition assignment on March 11 and in his US debut, a first win weight special on February 6.
A 4-year-old filly owned by CYBT, Saul Gevertz and Michael Nentwig, Excelerina, who earned a Beyer speed figure of 81 in her allowance award, is 5-2-1-0 with earnings of $84,713.
Leonard Powell's 5-year-old French-bred mare Avenue de France, who closed a lot of ground to finish sixth, beaten by 3 ½ lengths in the Grade 2 Buena Vista Stakes over a mile on turf on March 5, was third, beaten by half a length. as he finishes two starts well at the Grade 3 Megahertz one-mile on turf and scores a surprise opportunity on his third straight graded stakes attempt on the course.
"Last time, I was too far behind," Powell said. "She closed, but too late. She had too much to do. I hope that this time she is a little closer to the leadership. I still want her in the back of the field, but not as far back as last time.
"She has a good quarter-mile turn and that's a plus. She recovered about 12 bodies in the field (at Buena Vista) but she couldn't do it all."
Undefeated in two starts in France at two years, Avenue de France is owned by Convergence Stable, Madaket Stables, LLC, Wonder Stables, et al. With an overall record of 16-5-0-5, he has earnings of $170,562 and will be looking for his first graded stakes win.
REAL HEROINE GRADE II WITH JOCKEYS AND WEIGHTS
IN ORDER POST POSITION
Race 7 of 12 Approximate post time 3 pm PT
Going Global—Umberto Rispoli—124
Excelerin—Mike Smith—120
Javanica—Juan Velázquez—120
Park Avenue—Juan Hernandez—120
Avenue of France—Drayden Van Dyke–120
The first special early release time for Saturday's Runhappy Santa Anita Derby Day is 12 noon and admission gates open at 10 am For additional information, visit santaanita.com or call (626) 574- RACE.