Offshore Racing Academy March Update with Solo Maitre CoQ Special!
by Offshore Racing Academy Apr 15 00:15 PDT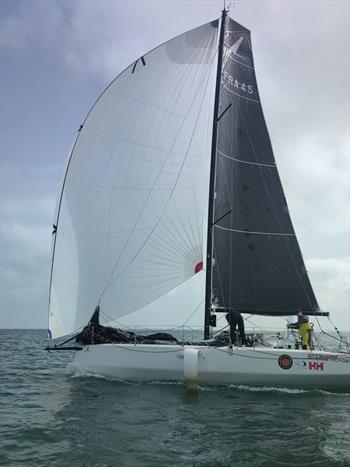 Offshore Racing Academy © Offshore Racing Academy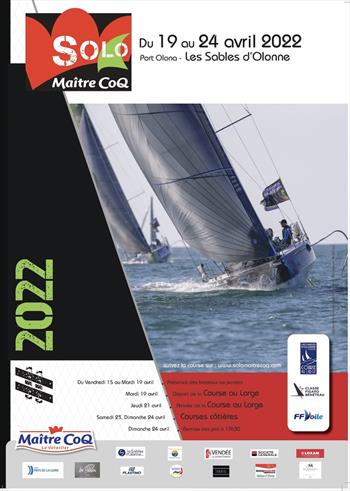 Special Only Maitre CoQ! © Offshore Racing Academy
Another month has passed in France, the UK and Ireland with projects, programs and conferences in every country, all dedicated to offshore racing, learning and yacht development.
March kicked off with the Classe Figaro Academy training run, a full report of which can be read here!
In essence, it was incredibly windy with Kenny Rumball and Timothy Long securing a 5th place finish in two races! When we say windy, very windy, 35-40 knots coming off the start line, check out a video of what the first 12 hours of the race went for here.
Shortly after this race there was a relocation to Port la Foret to help out a new Irish JPK 10.30 with father and son duo Justin and Nathan Burke. Enough about what I have to say, here is Justin Burke's opinion on the few days I spent with them and some outdoor sessions we organized…
Most club sailors see racing as part of training, but to train efficiently you need a coach. 1Coaching provides structure, a wealth of knowledge and focus. A coach will also bring in a measurement/review structure that is rarely done professionally after races. If you lose the race, nobody wants to fall into the blame game and if you win, you go to the bar.
Having raced FF15s and SB20s for the last 2 decades, I recently purchased a cruiser racing boat. Aside from the new passenger racing format, I was up against the latest range of electronics. I compared this to making a phone call 20 years ago in a public phone booth with pressing the A button and then receiving the latest iPhone and expecting to learn as you go. You can learn by trial and error if you have the patience and time. But at some point you will recognize that the sport of sailing is one of the few sports that does not have a strong and extensive infrastructure for training. Hosted by the Offshore Racing Academy, Christian Dumard provided an excellent tutorial on how to use Windy, learn what weather to expect during your traverse. We also received a detailed session on how to use Adrena, the most advanced racing navigation software, along with this we received a course on NKE hardware, including auto-helm racing. There is no way we could have figured this out without professional help. We receive training in the water, all the time incorporating the NKE and Adrena navigation system. All 3 together was a challenge as it's easier to think you can run for the seat of your pants, but when you see what the pros use, you see there are more options. We also got a review of equipment calibration and boat tuning, all I can say is it won't hurt you but it will lose you the race.
Cut the learning curve, get training and enjoy the new knowledge. It might even help your bottom line.
While in Port La Foret we spent an evening with our initial series of talks ahead of the Irish Offshore Circuit for 2022, hosting an Introduction to Offshore Sailing night. This introductory talk was to break down and simplify some of the barriers and misinformation about sailing on the high seas. We were amazed at the registrations with 120 interested and 101 attending the online talk! A great two hours with lots of interesting questions and proof that there is considerable interest in offshore racing in Ireland!
With little to no rest, he was off to the UK for a weekend of training, back in the world of IRC! It was certainly a step back into familiar territory for Kenneth, sailing back aboard a boat with 5 other people on board! Two 30-mile races on Saturday and Sunday, more on that in the coming months!
I'm back in France for one of the last weeks of training before the next Solo Maitre Coq… We're back in La Rochelle for 4 days of sailing, mainly focusing on trying out the different sailboat options! We had test sails from North Sails, Delta, Incidence and Technique Voile. An extraordinarily interesting week that allowed our training group to navigate and investigate changes to designs for 2022. This allows us to make informed decisions on our choice of sails for the upcoming season and our main focus, Solitaire du Figaro in August! Don't worry, it's not always hard work, we also treat ourselves from time to time, see one of the photos!
To say we put in a lot of effort would be an understatement, so there was a very welcome return to Ireland at the end of the month! To round off the month, we had our second seminar with world-renowned weather router Christian Dumard, who showcased the huge benefits of Windy.com and how to make the most of it for offshore racing. Once again we had a phenomenal turnout with over eighty signing up on our website for the course.
We have Solo Maitre Coq coming up in April, we'll give a full report on the race once we've completed it, but to give you an idea of ​​what we have to come…
The first race of the 2022 season of the Figaro Bénéteau Class, the Solo Maître Coq, will be held this year from April 15 to 24 in Les Salbes d'Olonne, the same port from which the Vendée Globe starts and ends. This year there is a significant change in the sense that the long offshore regatta will be run before the onshore regattas to better reflect current events and the return of the Fair-Expo to the Vendée Globe square between the 21st and the 24th of april.
The Grand Course will take skippers to the Iles de Ré, Yeu and Belle-Île. This long offshore course runs north and then south for a length of approximately 240 nautical miles. This regatta is expected to take skippers approximately 3 days at sea to complete the course.
Then, for two days, the skippers will compete in two short courses of approximately 30 miles in the bay of Les Sables d'Olonne, giving spectators the opportunity to see Offshore boats and sailors compete just offshore!
For this year, there will be three Irish competitors in the race. Tom Dolan will return for his fifth turn this season, while Kenneth Rumball will be on his second try. New for 2022 will be Conor Fogerty, a well-known and proven sailor on the high seas! The full list of sailors can be found here.
Don't forget to follow the competitors here throughout the course of the offshore and inshore regattas; www.solomaitrecoq.com/cartographie.