Twins and Rangers agree on deal that will send infielder Isiah Kiner-Falefa in Minnesota, reports ESPN's Jeff Passan. Kiner-Falefa and a prospect will travel to Minnesota in exchange for a receiver Mitch Garverby MLB Network's Jon Heyman. Launcher Ronny Henriquez is the prospect heading to Minnesota as part of the deal, by Betsy Helfand of the St. Paul Pioneer-Press.
For Rangers, it's yet another headline-grabbing move in what has been a very busy off-season for the club. Before the lockout they spent a lot of money adding various players with the two biggest names being the shortstop Corey Seager and second baseman Marcus Seeds. The addition of these two infielders, as well as the impending arrival of prospects Josh Jung, led to immediate speculation that Kiner-Falefa could be a commercial candidate. But when Jung underwent shoulder surgery last month, it seemed to swing the pendulum back to Texas, keeping Kiner-Falefa as the daily third baseman. However, that has now turned out not to be the case, as he heads to Minnesota.
The twins had Andrelton Simmons as the main shortstop last year. Despite his long-known defensive skills, Simmons has had a dismal year at the plate, hitting .223/.283/.274, wRC+ of 56. Yesterday he signed with the Cubs for a modest $4 million salary. dollars, showing that the Twins weren't terribly motivated to bring him back into the fold. With Kiner-Falefa, they brought in a player with a similar profile to Simmons, but more reason to be optimistic about his future performance. Like Simmons, Kiner-Falefa is a first-gauntlet player, winning a Gold Glove in 2020 and finishing third among MLB shortstops in Fielding Bible voting last season. His bat has been below average so far in his career, having never reached a wRC+ above 94. However, he is still relatively young, turning 27 later this month, compared to Simmons, 32 years old. He also hit .271/.312/.357 last year for a wRC+ of 85, not big numbers but definitely better than what Simmons provided. It also provides for an umpire salary of $4.9 million, per MLBTR contributor Matt Swartz, and comes with an additional year of scrutiny beyond that.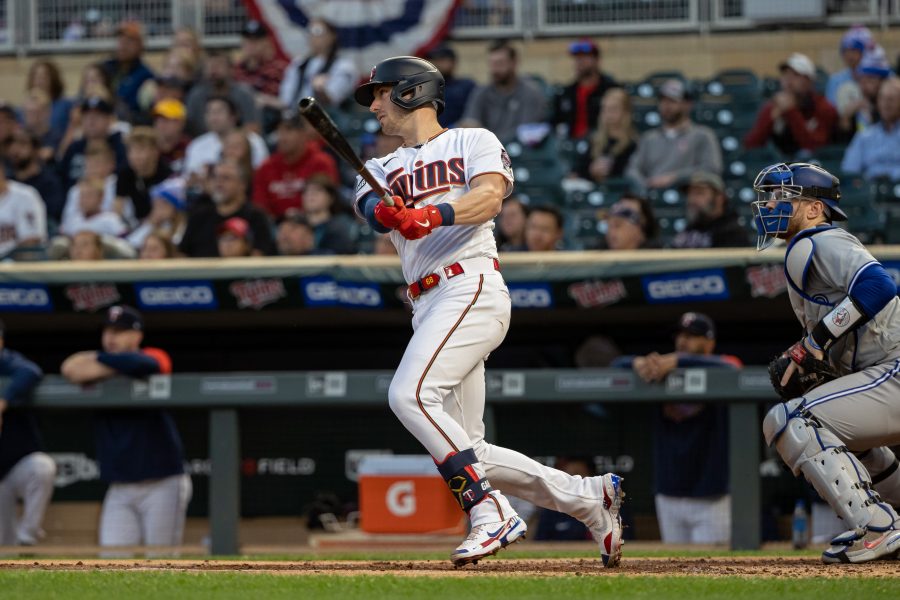 But in order to make this solid addition to their infield, the Twins had to send a valuable player the other way. Garver had a terrific breakout season in 2019, hitting .273/.365/.630, wRC+ of 155. That would be a standout production for any player, but it was especially impressive for a receiver. Injuries limited him to just 23 games of anemic production in the shortened 2020 season, but he bounced back well last year. Although he is still injured and has only played 68 games, his 2021 line was 0.256/0.358/0.517, wRC+ of 137. Last year, Rangers split catching duties almost evenly between Jose Trevino and Jonas Heim, who achieved wRC+ scores of 60 and 64, respectively. Garver is able to produce at a much higher rate, but is concerned given the injuries of recent years, making him a high-risk, high-reward option for Texas. He won't pose a huge risk from a financial standpoint, however, as he expects a referee salary of $3.1 million this year, with another year of control remaining after that.
The reason the Twins could afford to part ways with such a talented receiver as Garver was the emergence of Ryan Jeffers. Making his MLB debut in 2020, he played 26 games and hit .273/.355/.436, wRC+ of 120. In 2021, he got off to a rocky start, hitting .147/.216/.176 before d to be demoted at the end of April. After showing signs of improvement in Triple-A, he was recalled in June and hit .206/.277/.433 the rest of the way, good enough for a 92 wRC+. by Garver's numbers, Jeffers turns 25 in June and has five years left in control. The Twins clearly felt it was worth taking a chance on the youngster as a regular receiver in order to improve their infield.
Of course, that's not all the Twins added, as they also brought Ronny Henriquez into the deal. The 21-year-old right-hander split last season between High-A and Double-A, making 16 starts in 21 games overall. In 93 2/3 innings, his 4.71 ERA wasn't particularly impressive, but the Twins were surely intrigued by his better 27.1 percent walk rate and 6.5 percent walk rate. than average. The club definitely needs arms after losing Joseph Bays trading, Kenta Maeda to injuries and Michael Pineda in free agency. Henriquez likely won't provide immediate help in that regard, given he's never thrown over Double-A, but he could potentially be a factor later in the season.
Returning to the Rangers, with Kiner-Falefa out of sight and Jung on the shelf for about six months, they will have to decide what to do with third base for this season. Internal options include Andy Ibanez, Nick Lefty, Yonny Hernandez and Apostle Sherten. They might also turn their attention to exterior additions, although a Jeff Wilson's tweet calls into question the continuation of Kris Bryant.
Image courtesy of USA Today Sports.